2021 December 8
Online
Event Type: Lecture, Workshop
Parent Event: The Architecture of Place Conversation Series
Organizer: ICAA
Event Website
Events
0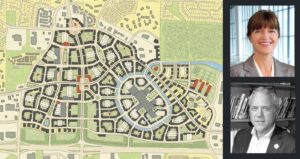 Over a three-part series, Galina Tachieva, Marianne Cusato, and Ben Bolgar had the chance to play the role of both interviewer and interviewee. In each installment, one of the architects was interviewed by one of the others about the influences, experiences, and projects that have led to their design perspective on the architecture of place. At the end of each session, students from partnering university departments posed additional questions to the speakers, followed by an open Q&A with attendees.

In this installment, Galina Tachieva was interviewed by Ben Bolgar, Senior Director at The Prince's Foundation, on a number of topics, including the ever-pressing urgency to repair sprawling communities following the post-pandemic flight to the suburbs.
You can view the recording here.
You can also view Galina Tachieva's interview of Marianne Cusato here.