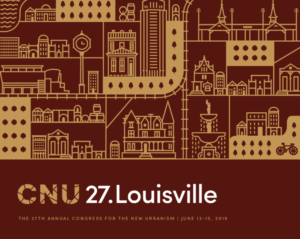 The member-led session reflected on the significant changes in urban real estate markets over the last two decades that have invigorated downtowns and urban neighborhoods. Many people are forgoing private subdivisions in favor of places with a sense of community. Responding to this shift of preferences, the participants considered how can we address the challenges of economically inefficient sprawl.
The lively interactive roundtable discussion focused on successional development as a way to respond to the risks and vulnerabilities of sprawl. Four themes were addressed:
importance of incremental retrofit in a suburban context;
ways to mitigate investment risk and other exposure;
ways to stem decline before it reaches collapse; and
first steps and ability to act quickly. Each roundtable participant will share their expertise, suggest practical tools and techniques, and field questions from delegates.
Editors Notes: The annual Congress for the New Urbanism, now in its twenty-seventh year, is the preeminent national event on building better places. Each year, more than 1,500 attendees convene to hear from speakers, participate in workshops, collaborate on projects, and engage with leaders in dozens of fields.