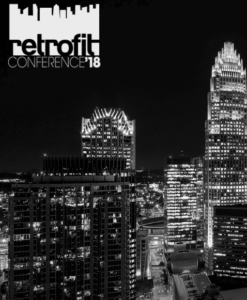 Galina's opening keynote presentation positioned Sprawl Repair as a comprehensive and practical method to transform auto-dependent, single-use places into more complete, economically viable communities. It demonstrated how design, regulatory and implementation techniques derived from the "trenches" at all development scales: regional, community, block, building.
Strategies were identified to create economic and social value out of stranded real-estate assets as the demise of the industry that produced sprawl continues:  Malls and office parks are dying; golf courses are closing; McMansions are losing their appeal to Millennials. The presentation not only highlighted why we should retrofit sprawl, but also showed a practical How, Who and When step-by-step path of action forward to a better burb.
Download Galina's Presentation
Editors Notes: Retrofit Magazine held its second-annual one-day conference in October 2018 in Charlotte north Carolina. The conference brought together focused on retrofitting commercial, industrial and institutional buildings.