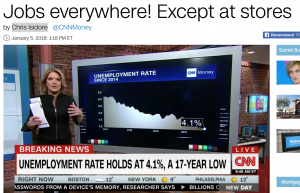 The retail meltdown is having the worst impact on the young, elderly, women and minorities hardest. According to the December Jobs Report:
"General merchandise stores, the segment that includes department stores, were hit the hardest, losing 90,300 jobs.
These job losses tend to hit the young, elderly, women and minorities the hardest. About 60% of department store employees are female, compared to 47% of workers overall. Minorities, the elderly and teenagers are also far more likely to find jobs in department and discount stores than they are elsewhere. Teenagers hold 8% of department store jobs, compared to 3% of jobs overall.
In 2017, 7,000 store closings were announced, a record that was more than triple 2016's number. And the trend will undoubtedly continue in 2018. Sears Holdings (SHLD), owner of both Sears and Kmart, said Thursday it plans to close more than 100 additional stores."
It is more important than ever to diversify our economy and opportunities through sprawl retrofits and mall repair that supports all of our citizens.