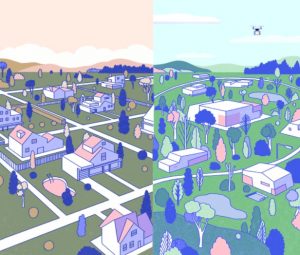 Alan M. Berger of The New York Times writes:
"Millennials want a different kind of suburban development that is smart, efficient and sustainable.
The suburbanization of America marches on. That movement includes millennials, who, as it turns out, are not a monolithic generation of suburb-hating city dwellers.
Most of that generation represents a powerful global trend. They may like the city, but they love the suburbs even more.
They are continuing to migrate to suburbs. According to the latest Census Bureau statistics, 25- to 29-year-olds are about a quarter more likely to move from the city to the suburbs as vice versa; older millennials are more than twice as likely.
Their future — and that of the planet — lies on the urban peripheries.
Planners need to view cities, suburbs and exurbs not as discrete units but as regions, with one integrated environmental and technological system."
The most environmentally responsible approach is almost always reusing and reconfiguring what already exists, rather than discarding and creating something new.  It is critical to employ sprawl repair techniques to make our communities more socially and environmentally responsive, not just build new to suit the millennials. Read more from Galina Tachieva.