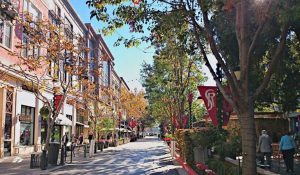 A well-known new urban project has begun to reshape the relentless sprawl around it, but communities shouldn't wait for that to happen.
Robert Steuteville wonders if Santana Row, "represents real progress—or is it merely dressing up a mess of disconnected development?"
To what extent is Santana Row an improvement [over conventional suburban development (CSD)]? And is it causing a positive impact beyond its borders?
Unlike the strip mall it replaced, Santana Row includes more than 800 housing units on the 42-acre site, in a region that is severely short of housing.
"In addition to seeding changes in its immediate context, Santana Row also proved the market for mixed-use, walkable development in the area—and this may have contributed to the revitalization of the city's downtown several miles away", according to Ellen Dunham-Jones.
Santana Row's impact has really taken off now that the community itself has taken the initiative to do more. It has taken San Jose a decade and a half to leverage the impact of Santana Row, and therein is a lesson for municipalities.
Expecting a developer to solve a thoroughfare or context problem that exists at a far larger scale than the development site is unrealistic. The developer has no leverage to change the culture of an institution like the local, state, or federal Department of Transportation. Even if DOTs would be willing to change, politics are involved. By taking the lead in transforming a major thoroughfare, the developer risks additional opposition to their project. There might be good reasons for a developer to attempt that—and I hope they do—but the developer would be crazy to try it without strong support from local leaders.
Local leaders and citizens can learn more about Sprawl Repair and find tools for transforming their own communities from Galina Tachieva, Managing Partner at DPZ CoDesign.