2022 October 20
Online
Event Type: Lecture, Workshop
Parent Event: Rethinking Sprawl with Galina Tachieva
Organizer: 1000 Friends of Florida
Event Website
Events
0
As a part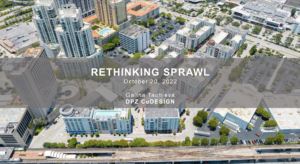 of the Dr. John M. DeGrove webinar series, Galina Tachieva joined 1000 Friends of Florida to discuss the repair of sprawling communities. The structure of the webinar allows for over an hour of densely packed lecture, instruction, and Q&A to properly dissect the prevalent issue of sprawl in modern suburban communities across the country and around the world.

In this presentation, Galina Tachieva discussed strategies to enhance suburban communities as they exist today. Utilizing knowledge and methods found in the Sprawl Repair Manual, she explored ways to introduce connectivity, sense of place, mixed uses, and better, more diverse housing opportunities for communities. The webinar began with an overview of new urban principles and recent development trends and goes on to cover the retrofitting of large areas (shopping centers, office parks, etc.) and bringing smaller-scale, incremental change to neighborhoods with lean sprawl repair tools.
You can view the recording here.
You can also view other webinars in 1000 Friends of Florida's series here.