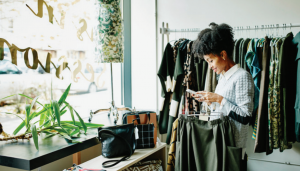 An August 2016 White Paper by Synchrony Financial in collaboration with Quartz creative services discusses Urbanization and the Consumer, as well as strategies for competing with growing E-commerce.
"EXPERIENCE-DRIVEN RETAIL: THE RISE OF FLAGSHIPS, CURATED SATELLITES, POP-UPS, AND CONCEPT SHOPS
Urban consumers strongly favor the in-store shopping experience—with an emphasis on the experience. Eighteen percent of urban millennials expect to shop more in stores in the coming year than they did the last. When they do, they expect more than just a transaction. They want a unique experience that differentiates their spending and are willing to pay, on average, 31.6% more for it.
From flagship stores to short-lived, curated experiences, the future of retail involves meeting shoppers on their own terms—in the physical spaces they prefer.
The spread of city culture and denser living means customers are willing to pay more for brands that sell experiences—that sell a lifestyle—as well as provide on-demand convenience."
These same strategies can be aimed at all ages and populations, and should be applied to Mall Retrofits in suburban settings where the decline of aging malls continues to drive down surrounding property values.