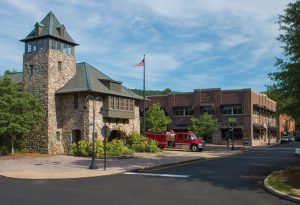 Note: Great article on the success of three New Urbanist developments! These particular communities are examples of new and/or infill projects in suburban locations, which can serve as inspirational models for future suburban retrofits.
Three Alabama towns are robust examples of New Urbanism — traditional communities designed to be practical rather than nostalgic. One was named the National Association of Homebuilders' 2014 Community of the Year.
In this article, Cary Estes and Art Meripol highlight three successful Alabama communities: Hampstead in Montgomery, the Village of Providence in Huntsville, and Mount Laurel in Birmingham.
It is called New Urbanism, a design concept in which communities are compact and connected. A place where children can walk to school, families can walk to church, and many of the necessities of daily life, such as food and health care, are also just a short stroll away. Where the sidewalks are wide and the front porches deep, and neighbors actually know each other.
"The reason it's New Urbanism and not old urbanism is that it combines elements of both," Andres Duany [of DPZ CoDESIGN] says. "We are non-ideological. This is not a nostalgic movement. It's a pragmatic movement about whatever works best in the long run. And it turns out that what works best tends to have a lot of the characteristics of old-town planning, but with some of the things that suburbs do well. So it's actually ruthlessly pragmatic.
"Essentially, suburbia, as we've known it, is obsolete. Office parks and malls are closing. People want the main streets. So now New Urbanism is dedicated to retrofitting suburbia and repairing urban sprawl. One of the most exciting things we're doing now is taking all this great investment in suburbia that is losing value, and we're fixing it. We're making it walkable and diverse. This isn't some kind of intellectual movement. It's driven very much by reality," according to Duany.