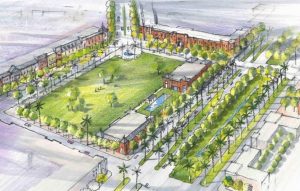 In honor of the annual Congress to be held in Savannah May 15-19, the Congress for the New Urbanism (CNU) developed a "Legacy Project" intended to leave an enduring mark on the host city and region. Retrofits of a suburban college campus and failing mall are key to creating a safer and more lively community.
"Consultants proposed a new town center for Southside Savannah that connects to the Georgia Southern University Armstrong (GSU-Armstrong) campus and transforms a busy, automobile-oriented thoroughfare into a boulevard. A failing mall could also be redeveloped into mixed-use urban blocks on the scale of Savannah's historic district. Many tenants have left the mall, and broken escalators are signs of poor maintenance.
If the mall fails, the site could begin to redevelop incrementally. The mall site is rectangular, and so the design team applied the scale of blocks and a square that are similar to Savannah's Oglethorpe grid plan. The redeveloped mall site would connect to the new town center and allow more urban residential development of townhouses and other "missing middle" housing types. If mixed-use development is to take place here, residential and university-related uses will likely prevail, with civic uses and limited retail and restaurants, Swartz says. The university expansion makes that vision feasible.
A large-scale suburban retrofit requires many moving parts—transformation of thoroughfares, new blocks and streets, mixed-use development, re-imagined green spaces, and revised development regulations. The plan covers all those elements, and city officials reacted positively.
Mayor Eddie DeLoach said, "Their approach to the area was dynamic and provides the City new ideas to spur redevelopment opportunities in a traditional suburban setting which would complement our National Landmark Historic District and pristine waterways."