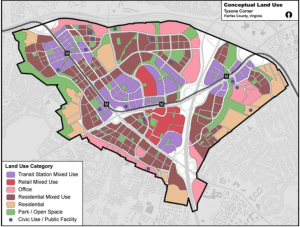 Amazon could turn a vast swath of suburbia into a walkable, transit-connected, mixed-use, and architecturally interesting satellite city. Such a project would prove transformational for whatever region it's in. But it would also become a template—and an impetus—for many more such projects around the country. As the mother of all suburban retrofits, HQ2 could help rewrite land-use patterns that are environmentally wasteful and experientially banal. It could model a new kind of suburbia—one that younger Americans will actively want to live in, rather than just settle for.
Instead of exacerbating an affordable-housing crisis in a pricey urban center, Amazon could help build a model of an inclusive urban suburb.
One argument against a suburban HQ2 site is that it would fuel sprawl. But infill isn't sprawl, and a locality could prevent the creep of subdivisions around HQ2 if it abided by smart land-use rules.
The urban renaissance is making only a small dent in it. So polycentric urbanism ought to be the goal in the 21st century.