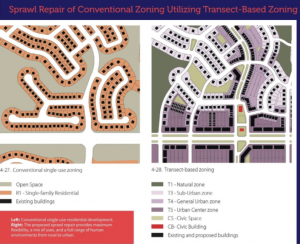 The Policy Watch section of the National Association of Home Builders' quarterly magazine featured our new article on Sprawl Repair – The next frontier in residential innovation.
Changing demographics, retail trends and lifestyle choices are establishing a new frontier for Home builders interested in helping to transform our suburbs, with actions targeted toward establishing urban centers.
Home builders play a key role in delivering desirable, livable products and can remain competitive by leveraging existing infrastructure, location, and market needs to create value out of stranded real estate assets. By including housing within auto-centric commercial development, sprawl repair promotes economic diversity and vitality.
Form-based zoning is a necessary tool that the home building industry should know well and take advantage of. It enables options and flexibility to transform single-use parcels into more diverse and resilient urban nodes that accommodate different people, incomes, and ages, and serves the suburban population at large.
Link to the Winter 2018 Issue of Best in American Living Magazine