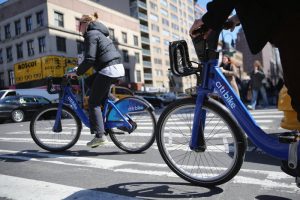 Generation Z, the born between 1995 and 2012, and raised entirely within the digital age, are likely to mix things up even more than the Millennials. Gen Z-ers in more urban settings are even forgoing a traditional rite of passage: getting a driver's license and then the car. Natalie Bettendorf, a Gen Z-er just coming of age, describes why she has no intention of getting a car. The Big Three U.S. automakers have taken notice, and ride-sharing applications are busy tracking the way we move. While rural areas of the country can't easily be served by ride-sharing, Gen Z may be even more influential in pushing transit-oriented development and averting sprawl than Millennials.
"Ford started its own bike-sharing service recently. It wants to sell to people like me who have no interest in buying a car.
The Big Three U.S. automakers — Ford, Fiat Chrysler and General Motors — say they are no longer just automakers. Every major car company is trying to make a move, whether it's car-sharing, ride-hailing or self-driving.
GM has a new car-sharing app called Maven that it's betting billions on. "We needed to create a new brand because this is really about access and not necessarily ownership," says Peter Kosak, executive director of urban mobility for Maven.
Millennials are starting to buy cars in big numbers, The Associated Press reported last year. They just had a late start — mostly because of the Great Recession. Could the same thing happen for Gen Z?"