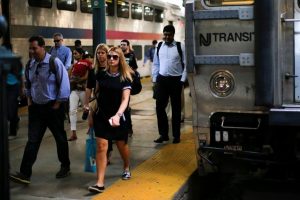 Paul Genovesi, CNU-A, is an Urban Designer at DPZ CoDesign in Miami, FL. As a Millennial, formerly of New Jersey, he offers additional commentary on Alastair Boone's piece:
"Why Are Millennials Leaving New Jersey?
New Jersey ranked 47th out of 50 states and Washington, D.C., for its percentage of Millennials in 2012.
Of the state's 565 municipalities, only 183 scored well on two or all three smart-growth metrics, and according to the study, only 111 of those places are popular with Millennials.
New Jersey's Millennials are struggling to find affordable housing in their home state. For one, 47 percent of them live with their parents. In fact, New Jersey has the highest rate in the country of 18-to-34-year-olds living with their parents.
54 percent of the housing in New Jersey is made up of single-family detached homes"
Losing millennials is just the tipping point for New Jersey. As these young, talented professionals flock to Hoboken to work in New York, or flee to adjacent Philadelphia and leave the state altogether, their empty-nester parents are also abandoning the Garden State to escape the high property taxes. Even their prospective employers are following them on the train out of NJ. According to Plan Smart NJ, the state currently has a 60+ year stock of vacant office space, and it's increasing by the day as companies follow the millennials to areas like Brooklyn and Philadelphia.
Repairing suburban office parks and shopping areas to make them once again viable for millennial employers/retailers should be a priority. These areas should be near existing major transit stations, as they are primed to better provide an exchange of residents, jobs, and lifestyle activities with the major metropolitan areas like New York, Hoboken/Jersey City, and Philadelphia.
However, none of this will be possible without a major bureaucratic makeover in the state. Exclusionary zoning laws prohibit the building of walkable urbanism and housing types other than single family. High property taxes make homeownership difficult and force rents to be higher than the market dictates. Arguably, the extremely limited/restrictive liquor license laws may be the biggest hurdle that prohibits millennial-popular places from forming in New Jersey. Several of the new urban/infill projects in the state are successful, but lack a pulse after 8pm, just like the sleepy suburb the millennial fled in the first place.