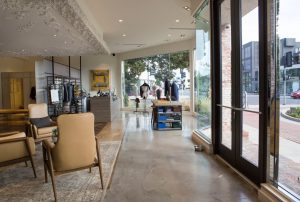 As American malls continue to drown in a sea of asphalt and suburban sprawl, traditional retailers are seeking options that will help them weather online retail competition. Almost side-by-side, Nordstrom is trying out a 3,000 SF showroom concept to compare with their 122,000 SF Nordstrom department store, in an upscale stretch of Melrose Place in Los Angeles.
"Brick-and-mortar retail chains, known for sprawling stores that stock a bit of everything, are trying to lift sagging sales using a different strategy: cozier spaces that sell very little of anything.
Instead of slashing prices and accelerating delivery times, praying for fickle customers to stay loyal, many retailers are aiming higher, to become a desirable place to shop.
Retailers are experimenting with small showrooms with few or no products, but often with impeccable customer service, as they try to compete with e-commerce companies.
"People don't have to go to stores anymore; they have to want to go," said Lee Peterson, an executive vice president at WD Partners, a strategy, design and architecture firm."
Mall Repair and Sprawl Repair are aimed at creating lean, flexible retail outlets that can weather the turbulent retail market.