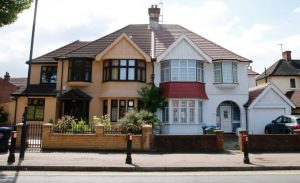 It is not rocket science that walkability reduces obesity – it is a health argument for Sprawl Repair. Feargus O'Sullivan writes: 
"A U.K. study finds a clear connection between density and obesity—and even rural areas fare better than suburban ones.
The study, carried out by specialists at the universities of Oxford and Hong Kong, found that obesity rates were markedly lower in areas where homes were more tightly clustered.
This might not come as a shock, given the long touted health benefits of walkable neighborhoods."
"…they make one thing clear: Residents' health is highly likely to improve when sprawling suburbs are made more dense. …it also breaks ground by matching obesity levels with specific rates of housing density."
 "… the lack of walkability for British people living in sparsely populated areas was compensated for by a relatively active lifestyle, … Even people who live in very sparsely populated areas still had considerably higher levels of obesity than people who live in densely built cities."
"In other words, being at the heart of things, being able to get around easily, and having more opportunities to build wider social networks might actually boost wellbeing in itself by making life easier, as well as encouraging people to leave their homes more."
Sprawl repair that clusters homes and inserts mixed uses creates walkable, healthier communities. Heres how it can be done.